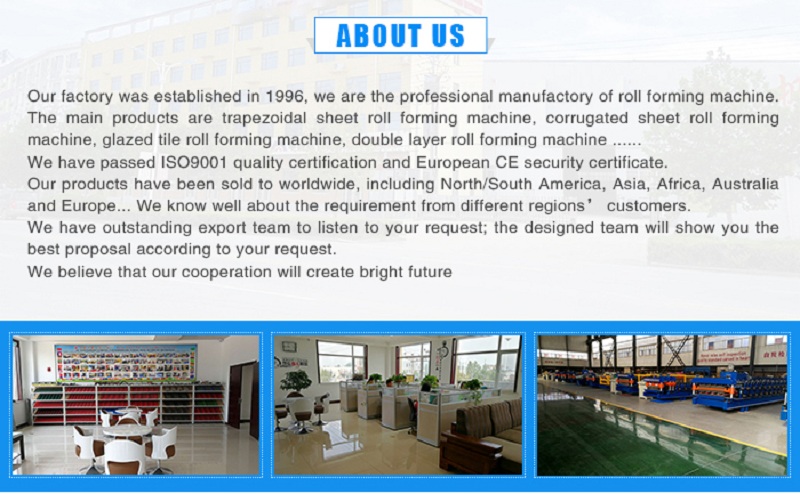 Petit pain de clôture formant la machine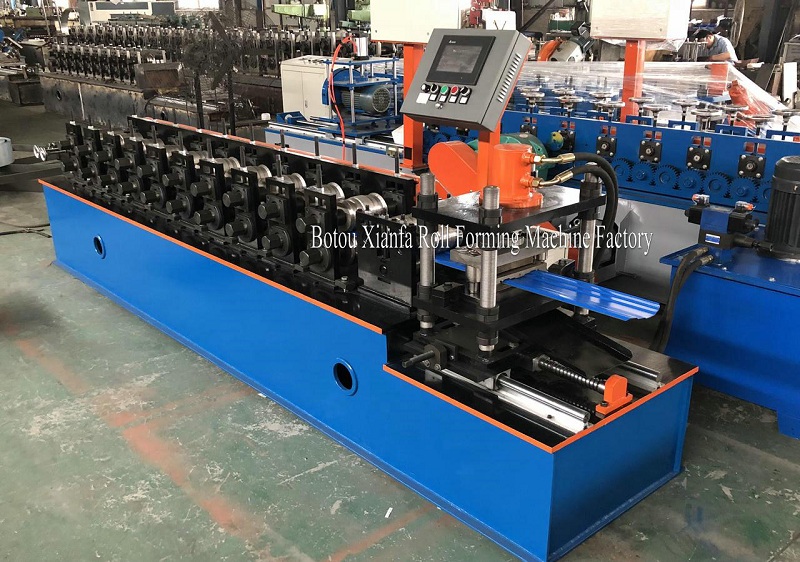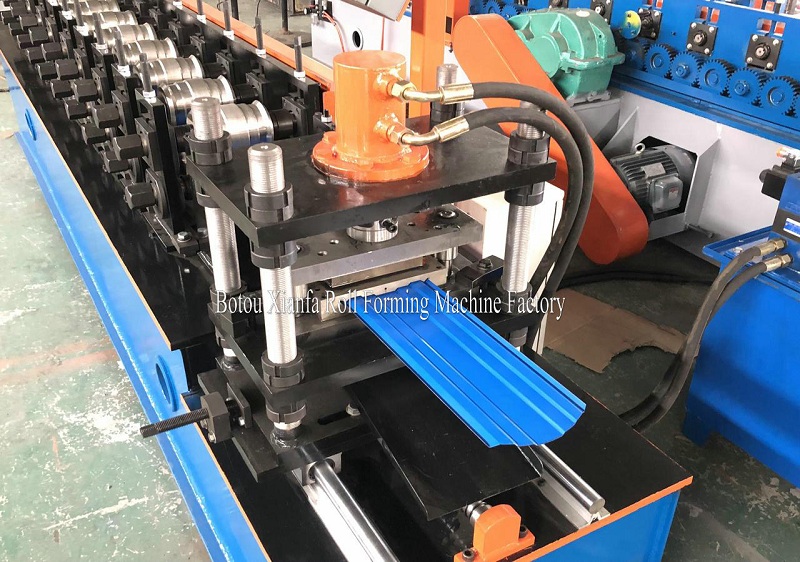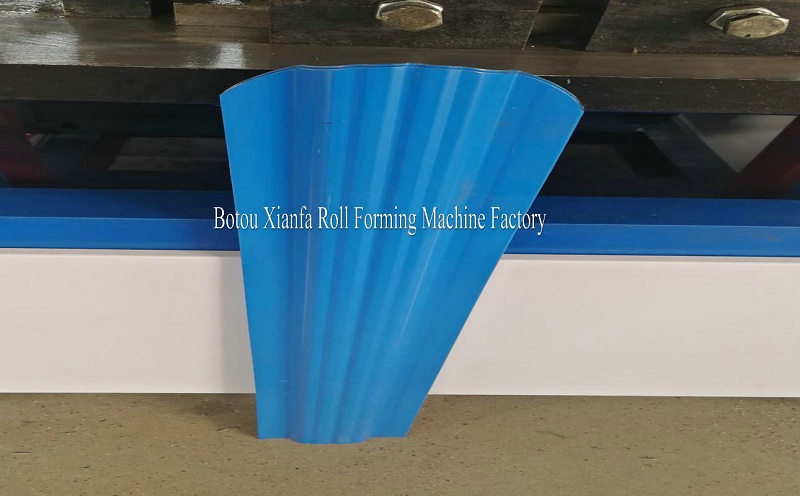 Paramètres détaillés de l'équipement
No

1

Suitable Material

Colored Steel plate, Galvanized Board,Aluminum Plate

2

Width of the raw material

as the drawing

3

Rows of rollers

12 Rows

4

Appearance size

About 8*1.5*1.6mm

5

Total power

4+4KW

6

Thickness of raw material

0.3-0.6mm

7

Productivity

0-15m/min

8

Diameter of shaft

¢70mm

9

Voltage

380V 50Hz 3phases
Composants et spécifications techniques
Manual Uncoiler

Usage:It is used to support the steel coil and uncoil it in a turnable way. The steel coil is uncoiled by hand. Loading capacity:3000KG.Inner diameter: 470-530mm

Main Roll Forming Machine

Material of rollers:45# steel,roller surfaces polishing, hard plating , The polished surface and the heat treatment towards the molds also can keep the molding plate surface smooth and not easy to be marked when it is being stamped.

Hydraulic System AND Computer Contrtol Cabine

Hydraulic oil: 40#

hydraulic oil into the hydraulic oil tank ,the pump drive the cutter machine to begin the cutting job.

The target piece`s length is adjustable and digit of it can be adjusted. Computed mode has two modes: automatic and manual one. The system is easy to operate and use

PLC: EURA(Can customize as customer require)

Press Form

Material of blades: Cr12,quenching treatment

Shearing Mechanism

It adopts the hydraulic drive and automatic location to decide the dimension and cut the target products.

Material of blades: Cr12,quenching treatment

Output Table

It adopts welded steel and supported roller to transmit the products,which is used to collect the finished products.
Emballage et expédition
1.We ont des techniciens professionnels pour le chargement
Garanti les marchandises charger dans le conteneur sans aucun dommage.
2. Transport: Les machines nécessitent un conteneur de 40 pieds
3.Veuillez nous indiquer le nom du port le plus proche, nous vous demanderons les frais d'expédition et organiserons l'expédition pour vous.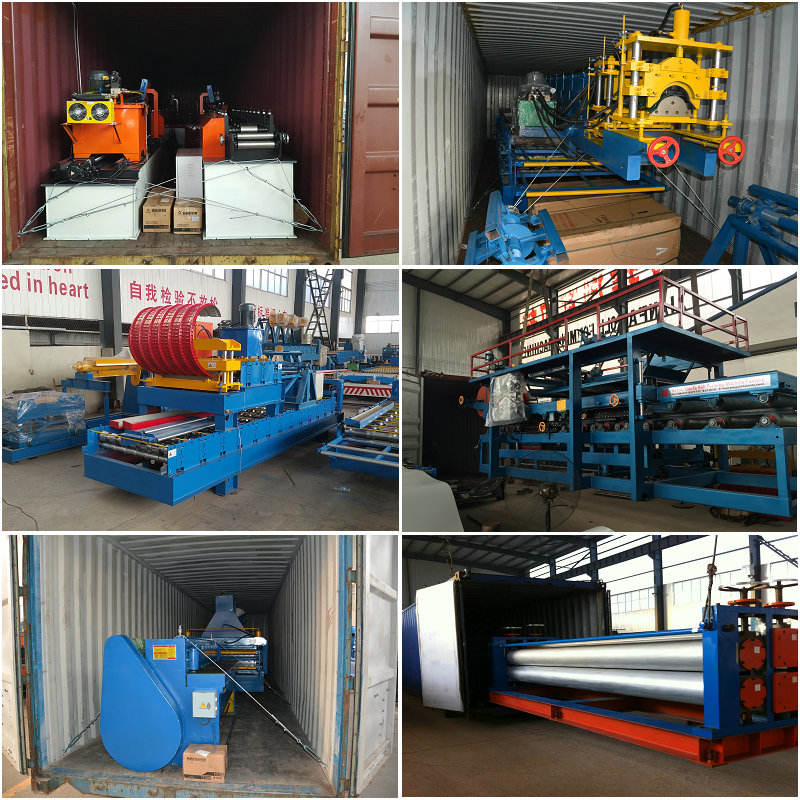 Certification de l'entreprise
Nous avons approuvé les certificats internationaux européens CE, ISO et SGS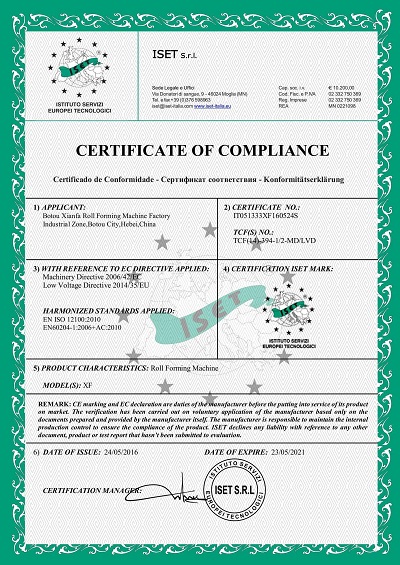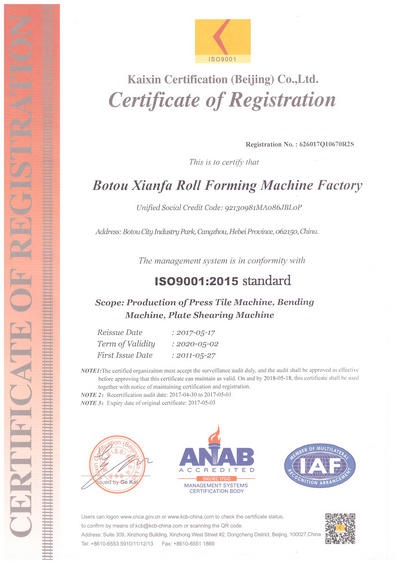 Nos services
1. Garantie: Un an et nous fournirons un support technique pendant toute la durée de vie de l'équipement.
2. délai de livraison: dans les 30 jours après réception du dépôt de votre paiement
3. Période de garantie: service gratuit / service payant pendant 18 mois toute la vie de la machine
4. Installation et formation Si les acheteurs visitent notre usine et vérifient la machine
nous vous apprendrons comment installer et utiliser la machine et formerons également vos travailleurs / techniciens en face à face.
Sans visite, nous vous enverrons un manuel d'utilisation et une vidéo pour vous apprendre à installer et utiliser.
Si l'acheteur a besoin de notre technicien pour aller à votre usine locale, veuillez organiser l'hébergement et les autres choses nécessaires.
questions - réponses
Pourquoi Choisir Botou Xianfa Rouler Formant Machine Factory
1) Q: Avez-vous un support après vente?
R: Oui, nous sommes heureux de donner des conseils et nous avons également des techniciens qualifiés disponibles dans le monde entier.
Nous avons besoin de vos machines en marche pour que votre entreprise continue à fonctionner.
2) Q: Comment vos machines se comparent-elles aux autres grandes entreprises de ce marché?
Un: nous sommes à jour avec la dernière technologie et améliorer nos machines en conséquence
3) Q: Livrerez-vous les bons produits à la commande? Comment puis-je te faire confiance?
Un: oui, nous allons. L'honnêteté et le crédit sont au cœur de notre culture d'entreprise
Xianfa est le fournisseur d'ALIBAB Gold avec une évaluation BV et un certificat CE.
4) Q: Que pouvez-vous faire si la machine est en panne?
A: La période de garantie de notre machine est de 18 mois, si les pièces cassées ne peuvent pas réparer
nous pouvons envoyer les nouvelles pièces remplacer les pièces cassées gratuitement, mais vous devez payer le coût express vous-même si après la période de garantie
nous pouvons, grâce à la négociation, résoudre les problèmes, et nous fournissons le support technique pour toute la durée de vie de l'équipement.
5) Q: Pouvez-vous être responsable du transport?
R: Oui, merci de me préciser le port ou l'adresse de destination pour lequel nous disposons d'une riche expérience dans le secteur des transports.
6) Q: Pouvez-vous fournir les matières premières?
A: Oui, nous pouvons fournir la bobine en acier galvanisé, la bobine en acier Galvalume, la bobine en acier de couleur et la bobine en aluminium
Pour des devis détaillés, veuillez contacter ci-dessous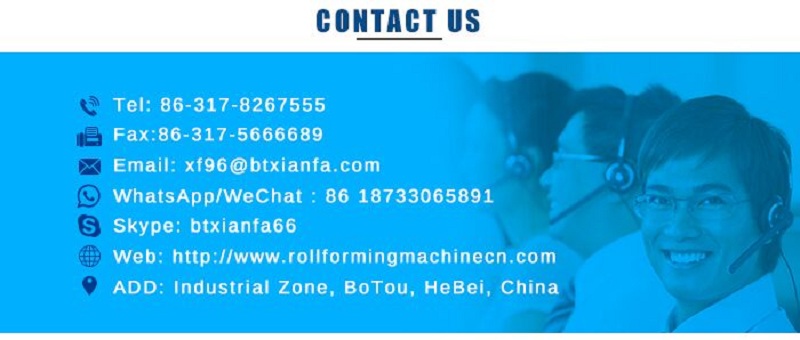 Groupes de Produits : Bâtiment de clôture formant la machine