Rail de garde de tôle d'acier galvanisé par commande numérique par ordinateur formant la machine
Petit pain de rail de garde formant la machine, Rouleau de garde formant la machine, Rambarde de route formant des machines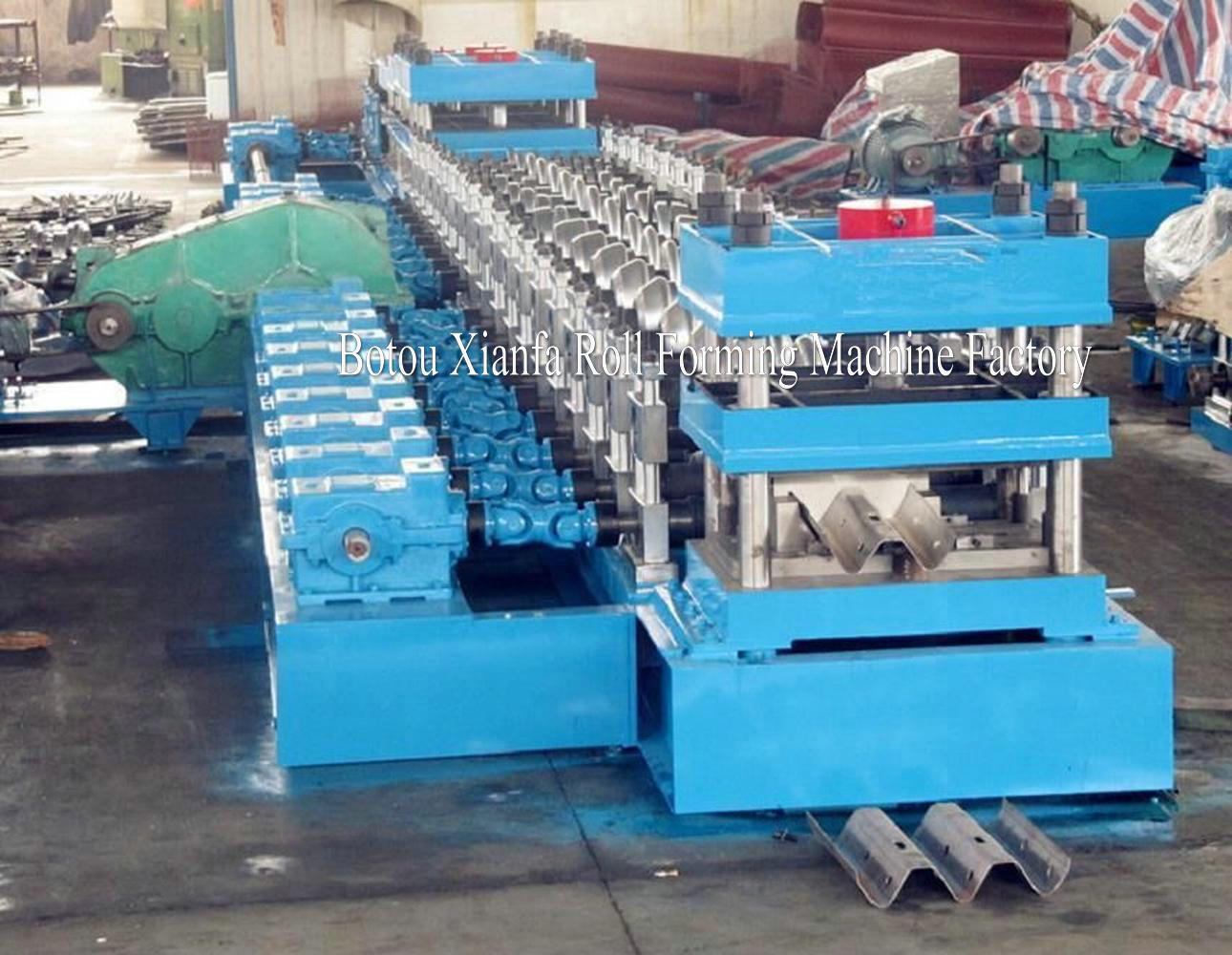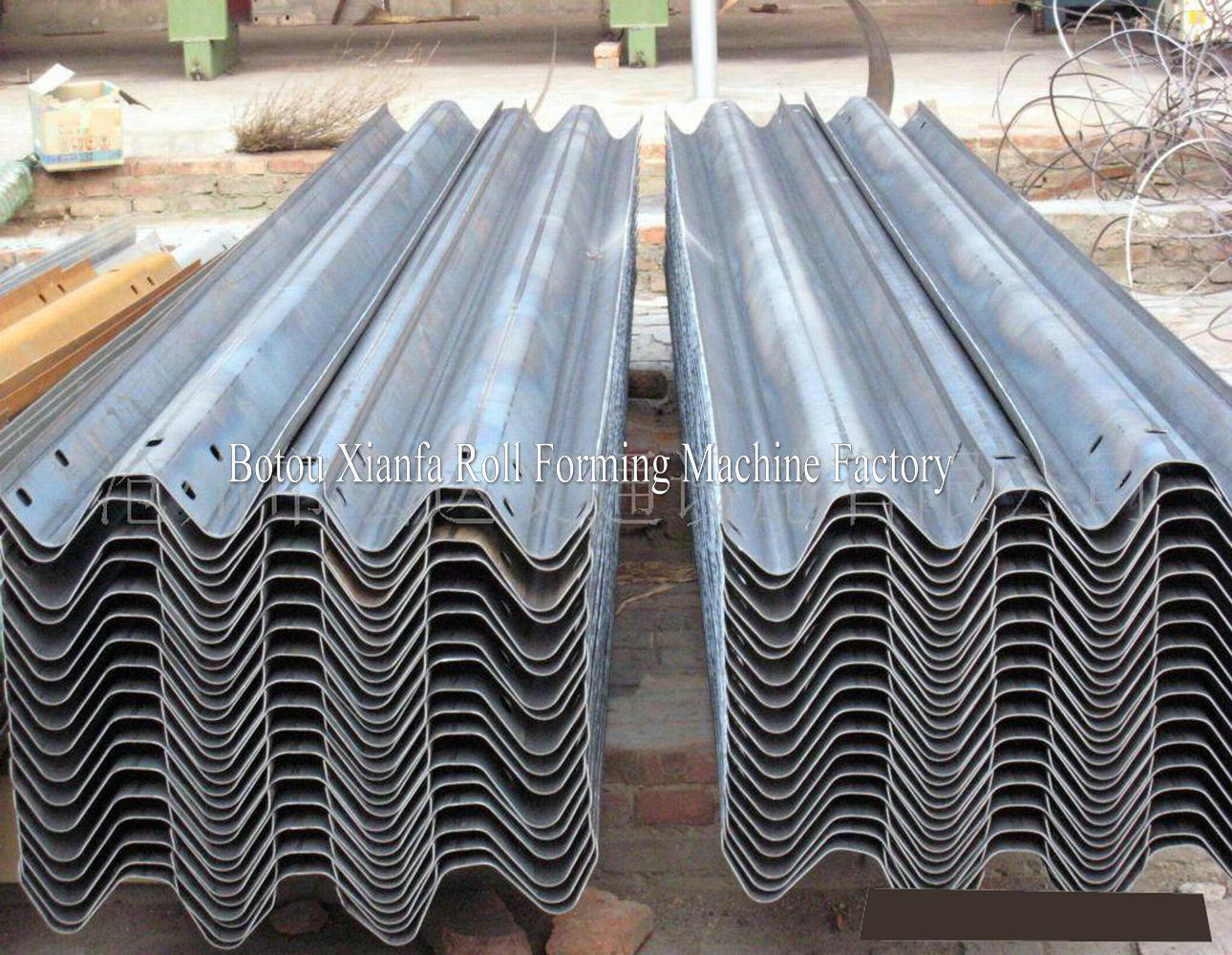 1.Guardrail Formant La Composition De La Machine De Machines Et Le Tableau De Flux De Processus
Manuel Uncoiler-Feeding-Seven rouleau aplatir-Poinçonnage-Rouleau Formant Formé-Cutter-Out put table
2. composants principaux :
Highway Guard Rail est une machine à dérouler manuelle 3T, un dispositif d'engrenage, un dispositif d'aplatissement et un dispositif de poinçonnage (ensemble de 2)
formation de rouleau, coupeur formé, boîte de contrôle de PLC et table de sortie.
3. Paramètres détaillés de l'équipement:
No

Highway Guard Roll Forming Machine

1

Suitable Material

Q235A Galvanized steel

2

Material Width

480mm

3

Thickness of raw material

3-4mm

4

Rows of rollers

15 rows

5

Main machine appearance size

13500x2700x1600mm

6

Working speed

10-12m/min

7

Roller material

Gcr15bearing steel with heat treatment,HRC58°-62°

8

Main motor power

45+11KW

9

Punching and cutter material

Cr12

10

Punching and cutting method

Hydraulic drive, flat punch,formed cutting

11

Control system

PLC frequency converting control ,length error ≤±2mm

12

Drive method

Gear box transmission

13

Diameter of shaft

¢95mm

14

Voltage

380V 50Hz 3phases
Garde-corps formant des machines
Méthode de paiement
Méthode 1: dépôt de 30% par T / T à l'avance et solde de 70% après confirmation de l'inspection avant expédition
Méthode 2: L / C est également acceptable.
Installation, mise en service, test et formation
1. Les ingénieurs du vendeur doivent superviser l'installation sur le site et effectuer la mise en service.
Ils doivent commencer dans les 10 jours après avoir reçu les informations de l'acheteur.
2. L'acheteur doit payer les billets d'avion internationaux et le local, tels que l'hébergement, le transport quotidien, la communication, les assurances,
etc. L'acheteur doit payer USD 100 / jour / personne au vendeur pour la mise en service.
3. L'acheteur préparera un interprète pour une meilleure communication entre les deux parties.
Vous cherchez un rouleau de toiture idéal formant la machine Fabricant et fournisseur? Nous avons une large sélection à des prix imbattables pour vous aider à faire preuve de créativité.
Tous les rouleaux de toiture formant la machine sont de qualité garantie. Nous sommes Chine Origine Usine de Rouleau Formant La Machine
Si vous avez des questions, n'hésitez pas à nous contacter.
Groupes de produits: Machines de fabrication et de transformation> Machines pour la fabrication de matériaux de construction> Machine de fabrication de tuiles - Rampes formant des machines
Groupes de Produits : Rambarde de route profileuse