Machine automatique de laminage à froid de laminoir à tubes
Le laminoir à tubes soudés est appelé machine de formage à froid pour tubes soudés. Vérification du nom
nous pouvons savoir qu'il s'agit d'une sorte de chaîne de production de tuyaux. Pour cette machine, il prend en charge l'épaisseur du matériau de 0,5 à 5 mm
pour des diamètres allant de 10-127mm. Et maintenant, il existe quatre types de machines à tubes soudés: HG32, HG50, HG76 et HG127.
Pour différentes épaisseurs de matériaux, gamme de diamètres, choisissez une machine à tuyaux différente.
Machine automatique de laminage à froid de laminoir à tubes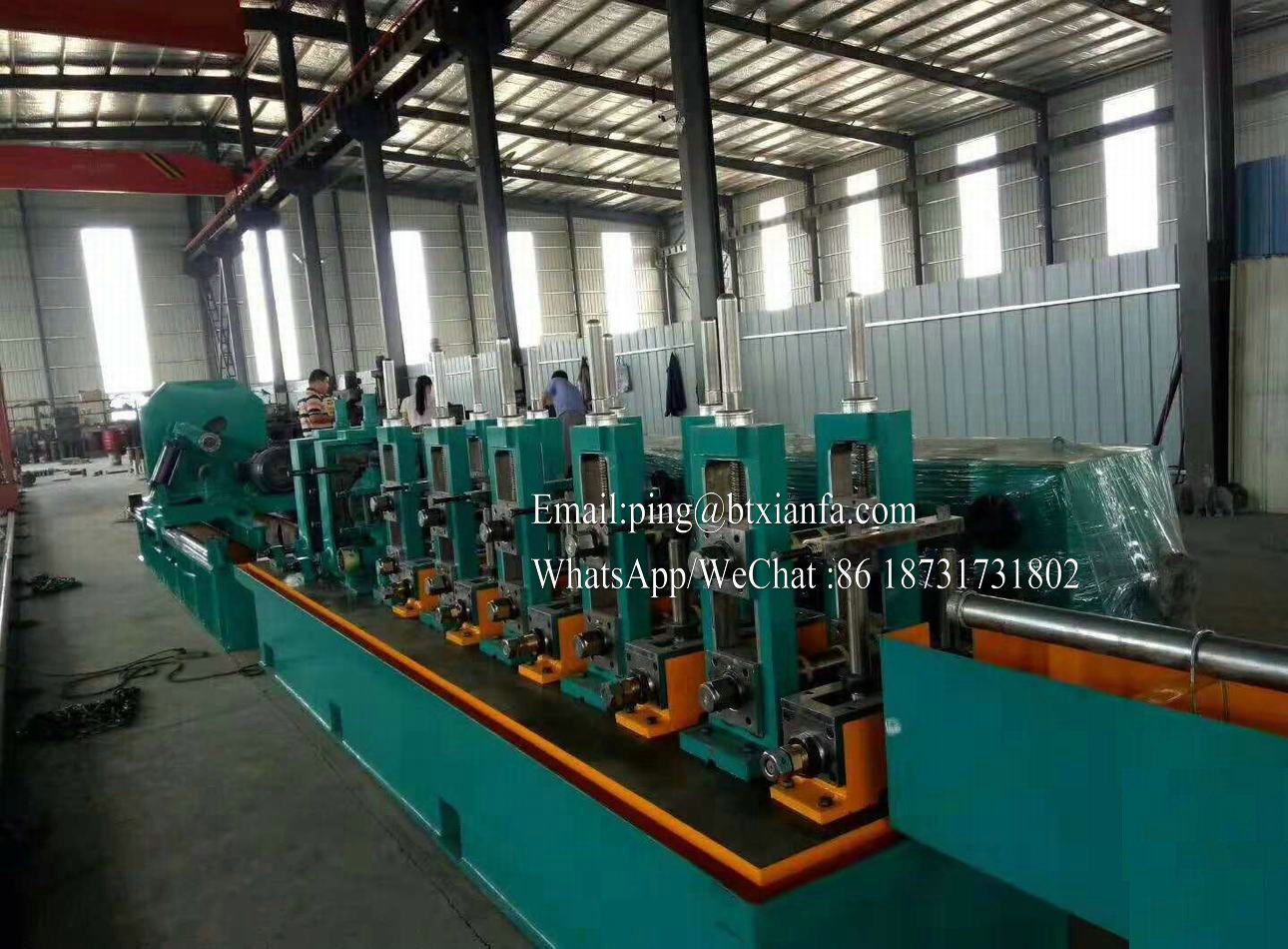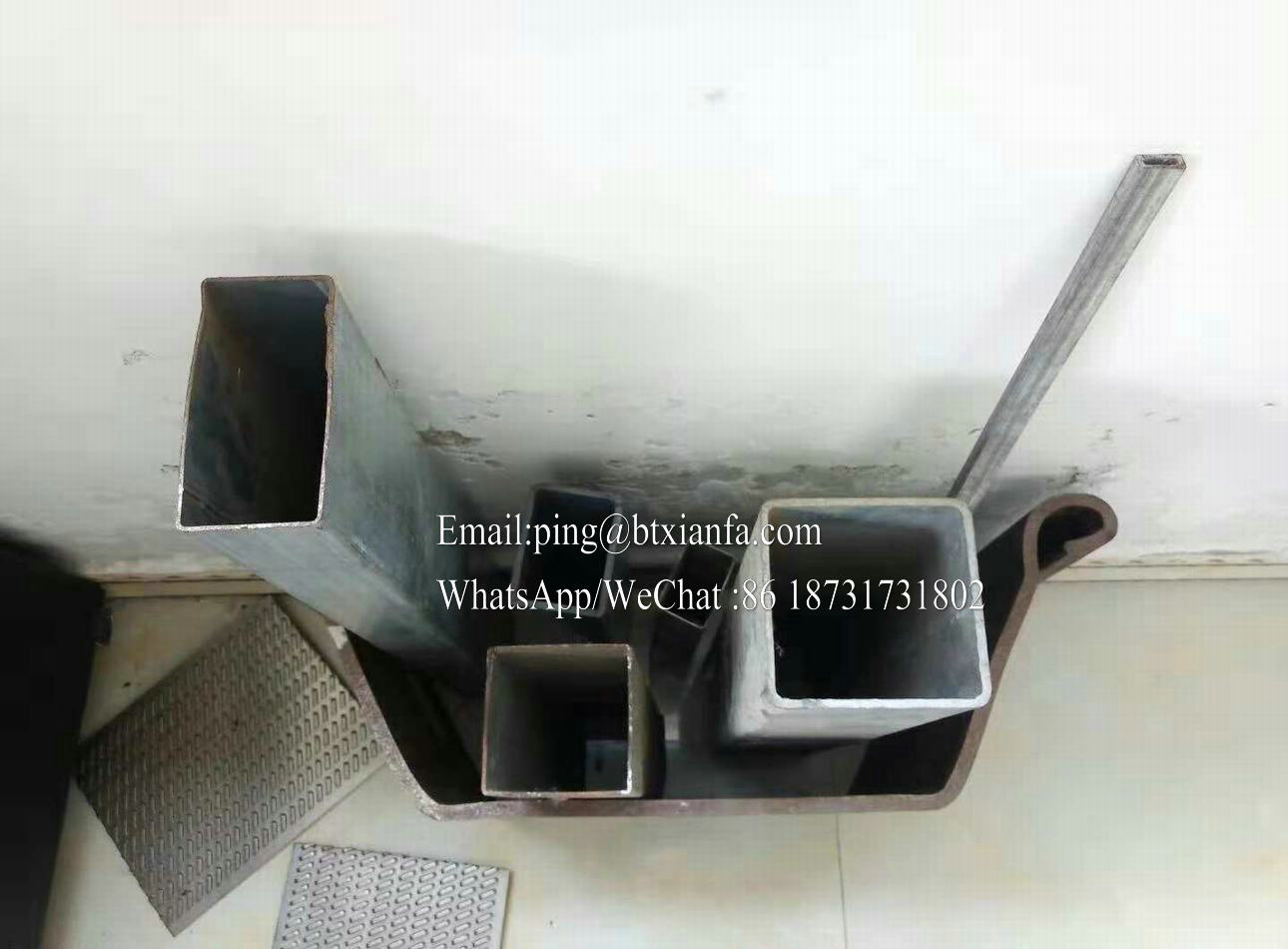 Composants de l'équipement
Déroulage → Cisaillement et soudage → Stockage dans l'accumulateur → Formage → Soudage → Refroidissement → Dimensionnement →
Coupe à la scie volante → Collecte de tuyaux
Material

processing material

Common carbon steel or low alloy steel

Pipe wall thickness

2mm

Tube size

Square pipe size:40X60 60X100 40X80mm

Double-head uncoiler

Inner diameter: 450-520mm

Manual mandrel expension

Manual mandrel rotation

Outer diameter: 1600mm

Max Coil width: 320mm

Capacity: 2000kg

Forming and sizing mil

Main motor power

110kw

HF welder power

150kw

HF model

GP150

HF input power

3P,380V,50HZ or as your requirement

HF outfrenquency

350-420KHZ

Forming speed

20-120m/min

Entry device

1 set

No. Of forming stands

Horizontal 7sets

Vertical 8sets

No. Of sizing stands

Horizontal 5sets

Vertical 5sets

The horizontal roll shaft diameter and material

60mm Cr40

The vertical roll shaft diameter and material

40mm Cr40

Bead Scraper

2

Cooling system

1

Turk head

2

Reduction gear box

Bevel gear box

Pipe wall thickness max

2mm

Cut to length

4-8mm

Cutting motor power

18.5kw

Traveling motor power

15 kw

Cutting accuracy

±3mm

Control

computer
Tube de laminage à froid formant la machine
Emballage et expédition
1.We ont des techniciens professionnels pour le chargement
Garanti les marchandises charger dans le conteneur sans aucun dommage.
2. Transport: Les machines nécessitent un conteneur de 40 pieds
3.Veuillez nous indiquer le nom du port le plus proche, nous vous demanderons les frais d'expédition et organiserons l'expédition pour vous.
Laminoir à froid formant une machine Mode de paiement
Méthode 1: dépôt de 30% par T / T à l'avance et solde de 70% après confirmation de l'inspection avant expédition
Méthode 2: L / C est également acceptable.
Installation, mise en service, test et formation
1. Les ingénieurs du vendeur doivent superviser l'installation sur le site et effectuer la mise en service.
Ils doivent commencer dans les 10 jours après avoir reçu les informations de l'acheteur.
2. L'acheteur doit payer les billets d'avion internationaux et le local, tels que l'hébergement, le transport quotidien, la communication, les assurances,
etc. L'acheteur doit payer USD 100 / jour / personne au vendeur pour la mise en service.
3. L'acheteur préparera un interprète pour une meilleure communication entre les deux parties.
Vous recherchez un laminoir à froid idéal pour le laminoir à tubes Fabricant et fournisseur? Nous avons une large sélection à des prix imbattables pour vous aider à faire preuve de créativité.
Toutes les machines de formage à froid du laminoir à tubes sont de qualité garantie. Nous sommes Chine origine usine de laminoir à froid tube formant la machine
Si vous avez des questions, n'hésitez pas à nous contacter.
Groupes de Produits: Machine de formage à froid de laminoir à tubes
Groupes de Produits : Tube soudé formant la machine